Say It's Not Sew:
Project #1: No-Sew Fleece Tie Pillows
An easy pillow made from durable and snuggle fleece so it wont fray at the edges.
Materials Needed:
2 pieces of the fleece fabric 26″ square, each
Fiberfill
Cut 2 identical shapes from the fleece. To allow for a 4-inch fringe, be sure to cut the shapes 8 inches larger than you want your finished pillow. For example, a 26″ would yield an 18″ square pillow.
Measure and draw fringe with chalk that's about 1 inch wide and 4 inches long.
Stack the squares with your chalk lines on top. Cut the fringe, through both layers of fleece.
Begin to tie pieces of fringe by double-knotting them. Continue up the sides of the pillow. At the top, knot together the top 4 fringes (2 pairs) into 1 double knot to cinch the opening more tightly. Then go back to knotting just 2 fringes until only 4 pairs are untied.
Stuff the pillow with fiberfill. Tie the remaining fringes. Brush off any chalk that still shows. Now rest easy. Your pillow is complete.
Project #2 : Fuss Free Fuse Tape Curtains

Spruce up any room with new curtains in a cinch. Choose from Chiffon Fabric, Contemporary Fabric, Satin, or any of our Decorative Fabrics to add some individual style to your home.
Materials Needed:
Fabric cut to accommodate window size, added 2″ allowance on each side for hem, 4″ extra along top edge.
Iron-on fuse tap
Based on your window measurements, cut the fabric of your choice to the appropriate length and width, allowing extra inches for hems.
Create a "hem" along three sides (bottom and two sides) of your cut fabric, using iron-on fuse tape. Follow the directions as indicated on the packaging.
Along the top edge of the fabric, create a "hem" with the iron-on fuse tape wide enough to accommodate your curtain rod.
Project #3: Fuzzy Fleece Scarf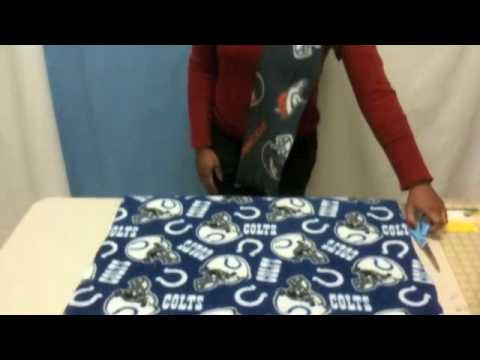 One of the most versatile and easy to use fabrics, fleece, is at it again. This time keeping your warm with ease. So affordable and easy to make, you'll start your own collection from the many Solid Fleece and Novelty Fleece fabrics we have to choose from.
Materials Needed:
1/2 yard fleece fabric
This project doesn't get any easier. Simply cut your fleece to the width and length you would like your scarf to be, allowing 4″ on each end for a knotted fringe.
Cut 1/2″ to 1″ wide and 4″ long fringe on each end. Knot each piece of fringe where it connects to the scarf.
Done!
Project #4:  Novel Cover
What an idea! One might even call it…novel! Protect your books from wear and tear with this easy to make fabric book cover. Get creative and theme each fabric cover with the appropriate print from our selection of Novel Fabrics.
Materials Needed:
Novelty fabric measuring 5″ wider and 2″ higher than each side of book
Iron-on fuse tape
Cut a piece of fabric that is 5″ wider and 2″ inches taller than the dust jacket on all sides. If there is no dust jacket, lay the book open on its spine and cut the fabric accordingly.
Iron the fabric 2″ at each end of the fabric and "hem" using the iron-on fuse tape. Create a second fold and iron 3″ at the longer part of each end and "hem" with the fuse tape along the top and bottom edges to create a pocket.
Your book cover is complete! Get reading.
Project #5: Reusable Fabric Gift Bag
Chose a Novel Fabric for your bags and reuse them for many years to come. Your gift will always be remembered each time this special gift bag is passed on. 
Materials Needed:
Novel fabric sized twice as large as your package
Ribbon for tying
Sewing Supplies
Cut fabric into a square or rectangle twice as wide as you want your bag to be.
Hem top edge with a straight stitch
Fold (right sides together) in half width wise.
Sew side and bottom seam. Zigzag raw edge to keep the edge from fraying.
Turn bag right side out and fill.
Add a personal touch with a pretty bow of some type and you've got a reusable, heirloom gift bag to use for years.